You will need:
Justime cleanser (can be acquired at any official dealer) or any neutral pH detergent*.
Piece of soft cloth.
*Don't use any abrasive or caustic cleaning agents or "no-rinse" cleaning products.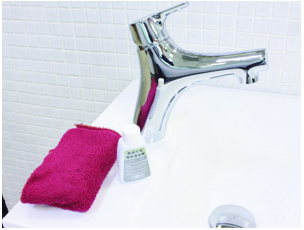 STEP 1.
Apply Justime cleanser on the faucet surface evenly
STEP2.
Spread the cleanser on the dirty area (or fully) of the faucet


STEP 3.
Rinse the detergent off with water. Make sure to rinse off detergent completely from the surface. Use dry soft cloth to finish the cleaning.
And your chrome faucet will look fresh, shiny and clean.
Note: Regularly clean your faucet with suggested instructions and it will say thanks to you.
Chrome plating :